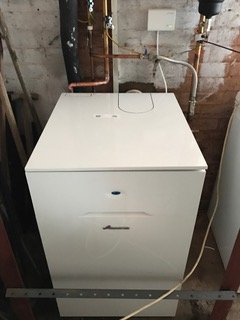 Installation of a Worcester Greenstar Heatslave II 18/25 ERP combination boiler. Removing an old Worcester Danesmoor which had become beyond economic repair.
We took out a old oil boiler and replaced it with a new Worcester Bosch Danesmoor utility 35/50 Greenstar regular boiler. Please browse through the before and after pictures. Kind regards, Richard Richard Meade | Managing Director Meade Heating Limited Mobile: +44 (0) 7850 112 219 Website: www.meadeheating.co.uk

Mrs Farrington as asked us to replace her old inefficient boiler as it isn't working correctly so we replaced her existing boiler with a new Worcester Greenstar heatslave II 18/25 ERP this was a straight swop with minimum impact.  A new RF programmable room stat was fitted to control the central heating. 

Pictures of existing Rayburn boiler/cooker, installed a new heat only Worcester Greenstar Danesmoor System 25/32 ERP OIL boiler to operate the central heating only with a integral programmer. Alteration work the existing heating circuits to suit new position of the new boiler.  The Rayburn with still be used for water only. Bosch Website Greenstar 12-32 […]