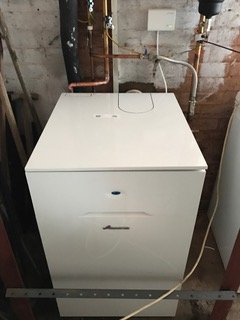 Installation of a Worcester Greenstar Heatslave II 18/25 ERP combination boiler. Removing an old Worcester Danesmoor which had become beyond economic repair.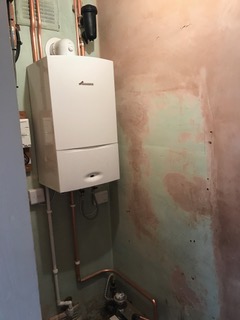 Installing a new Worcester Greenstar 30i ERP Combination boiler taking out a old inefficent back boiler which had been condemned in a recent service call.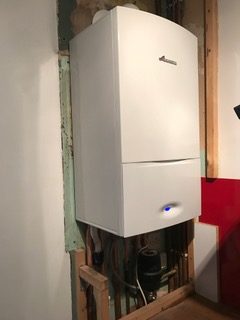 Replaced a combination boiler which was loosing pressure all the time due to expansion vessel which had corroded and which was beyond ecomic repair. The landlord contacted us and we responded quickly to give the tenant hot water and heating.
Natural gas boiler installation taking out existing and replacing with new Worcester Bosch 30i erp Kind regards, Richard Richard Meade | Managing Director Meade Heating Limited 55 Coventry Road, Burbage, LE10 2HL Mobile: 07900212880 Website: www.meadeheating.co.uk LinkedIn: www.linkedin.com/in/meadeheating Facebook: www.facebook.com/meadeheating
We took out a old oil boiler and replaced it with a new Worcester Bosch Danesmoor utility 35/50 Greenstar regular boiler. Please browse through the before and after pictures. Kind regards, Richard Richard Meade | Managing Director Meade Heating Limited Mobile: +44 (0) 7850 112 219 Website: www.meadeheating.co.uk

Worcester Greenstar Danesmoor Utility 18/25 Oil Boiler The removal of a Trianco Tro Eurostar 60/70 this oil boiler was inefficient and needed a new boiler stat, a new more efficient Worcester greenstar danesmoor utility 18/25 Erp was installed Download the Instruction Manual Greenstar Utility 18-25 Installation and Servicing Instructions

Emergency Call Out – Gas Boiler Swap We were called by the customer to respond to this emergency.  The old boiler had broken down and was long over due being replaced. We were happy to respond quickly to help this family with young children in the height of winter. Our solution was replacing this old […]

Pictures of existing Rayburn boiler/cooker, installed a new heat only Worcester Greenstar Danesmoor System 25/32 ERP OIL boiler to operate the central heating only with a integral programmer. Alteration work the existing heating circuits to suit new position of the new boiler.  The Rayburn with still be used for water only. Bosch Website Greenstar 12-32 […]

This internal LPG boiler with an external storage tank was installed and commission by us at the end of 2016.   Worcester Greenstar Danesmoor External  12/18 ErP A condensing Heating Boiler EN 15034 – Serial Number: 5572-658-000044-7731600059

This internal natural boiler was installed and commission by us at the end of 2016.   Worcester Greenstar Danesmoor External  12/18 ErP A condensing Heating Boiler EN 15034 – Serial Number: 5572-658-000044-7731600059